Building a buyer's persona is an important and underrated part of a sales funnel. Most marketers focus on the technical aspects to create an ad, UX of a landing page to attract customers, nurturing process, and more. 
Yes, all these tasks are very important to generate sales in the short-run and long-run for B2C and B2B businesses. But, most people don't focus on the process to build a relevant buyer's persona. 
Just think this way, if you don't know who your customer is and what are their problems then how can you craft your offer or funnel?
If you ignore this part and focus on building a funnel without knowing your customer, trust me you won't be able to grow your business fast.
Now, the question is, how can you build a relevant buyer's persona for your own business?
Well, in this article, I am going to show you the 9 platforms that you can use to build a relevant buyer's persona for your own business. 
Let's start with the first one.
Buzzsumo
Buzzsumo is a cloud-based website that provides information regarding the engagement and content opportunities for a specific keyword on different social media platforms. 
In simple words, it shows you the social shares and engagement on different platforms like Facebook, Twitter, Reddit, etc., for a specific keyword and topic.
For instance, if I want to see how many people respond to a topic "off-page SEO" on social media platforms then I would simply put this keyword in Buzzsumo's search bar and press the "Find content" button.
You can see that Buzzsumo helps to identify the demand and the engagement rate of a specific topic on 4 primary social media platforms (Facebook, Twitter, Pinterest, Reddit). 
Also, you can use its filters in order to get more specific results according to your research. 
Add this tool to your content marketing research process and build a strong buyer's persona.
Answer The Public
"Answer the public" collects data from Google SERP and other resources. It collects and categorizes the data with different words like "how", "when", "will", etc. 
According to the brand itself, they use current search results for any searched term. For more information, you can read the answer on their forum platform.
It is a solid platform if you want to understand the doubts and questions of your buyer. It will surely strengthen your buyer's persona.
Reddit
Reddit is a well-known global website for social news aggregation and discussion. People post different content and questions regarding different niches on Reddit.
Your targeting audience could congregate here. So, this is another platform to pick questions and answers to understand the challenges that your customers face.
Add these data points to your buyer persona document to make it more strong.
Ahref
Ahref is a renowned tool in the SEO industry. You can use its keywords explorer tool in order to collect the search queries that your customers search on Google. 
Also, you can see their search volume (these numbers are not 100% correct) to get the idea of which query people search the most in your business. 
These queries will help you to understand the buyer's persona and to mold your product service accordingly.
"People Also Ask" Section Of Google
When you search for something on Google then it also shows you related questions and answers under the "people also ask" section.
This data is precious and you can use it to build your buyer's persona. You can understand the problems and challenges of your prospects to create your content marketing strategy. 
Relatable content and product or service always acquires customers at a low cost. So, use this section while building your buyer's persona.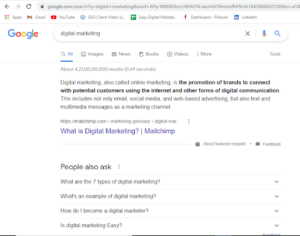 Google Trends
Google trends is an amazing website to see the trends for different search queries on Google in different regions and languages. 
You can search your query to see the trend in your region and language. It helps to see the demand and to understand the trend. Also, you can use it to check are your customers eagerly searching for something online or not.
Facebook Groups
People use Facebook groups to find answers to their questions. You can check active groups on Facebook to check what type of challenges your prospects are facing in your niche.
Simply, go to the Facebook search bar and put the head term of your niche. Search groups for that term and join them.
Analyze the posts, questions, and answers related to your product or service. This will help you to understand the expectations of your customers from the solution you want to market. 
Testing Campaigns On Social Media
Testing campaigns is another option to check the response of the audience regarding your product and service. 
It helps to filter out the demographics of the audience that responds the most to your product or service. Hence, you can use it to understand your buyer's persona with real data. 
If you don't know how to run testing campaigns on Facebook then you can download my free ebook here.
Government Sites 
A government site could be an information source to understand the number of opportunities in a certain region by downloading the population data.
These data sheets are available to everyone and you can download them for free from your country's site. 
You can also use different data points to understand your buyer's behavior to strengthen your persona. 
Conclusion
You can use various resources online in order to know more about your customers. This data will help you to understand the expectations, challenges, and problems of your customers.
Mold your marketing strategy and offer to help people. Definitely, you will get results from your marketing efforts.